DACT Newsletter issue 3, October 1st 2001.
Welcome to the third issue of the DACT Newsletter.

This time we would like to focus on technical information.
The line of DACT stepped audio attenuators has gained a world-wide reputation for top quality sound and specifications. DACT attenuators are being used by high-end audio equipment manufacturers and by DIY audiophiles that upgrade their existing equipment or build their own.
However, to make the best of our attenuators, it is important to understand critical issues about volume control applications.
To assist DACT attenuator customers obtaining the best possible results, DACT is now launching two pieces of information/tools at http://www.DACT.com:

Passive volume controls (preamps)
The first tool is a Technical Paper describing about passive volume controls (often called passive preamps). The paper mentions passive volume controls advantages/disadvantages and it lists the main issues to consider when designing and using a passive volume control.
Read the Technical Paper here.

Attenuation Curve Calculator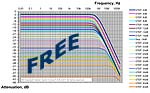 The DACT Attenuation Curve Calculator (ACC) is a tool to assist DACT customers and others interested in designing their attenuator / volume control circuit correctly. The ACC is especially useful for calculating passive volume controls (passive preamps).The Attenuation Curve Calculator is a Microsoft Excel spreadsheet (version 5.0 or later). It requires only input of three figures to run a complete set of curves.
The ACC calculates real-life frequency response curves based on the actual components connected to the attenuator. The ACC shows not only one frequency response curve, but one frequency response curve for each attenuator position (totally 24 steps). So it becomes easy to see worst- and best-case situations.
Download the Attenuation Curve calculator here.

Best regards
DACT



You are receiving this newsletter because your e-mail address has been entered through the newsletter subscription form at http://www.DACT.com. To unsubscribe, please reply to the newsletter with UNSUBSCRIBE in the subject field.