DACT are now launching the new CT2-10k-1/fine stepped attenuator. So far the unit is available in a 10kOhm version.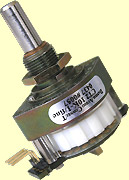 CT2-10k-1/fine is built in the same way as our previous mono version of CT2. Sound and specifications are the same but CT2-10k-1/fine has only 0.5dB level change between each step.
The intended applications for CT2-10k-1/fine is as control for fine-tuning levels, for instance as individual channel control control in multi-channel systems, active crossovers, etc.
We have developed some circuit schematics to show typical applications and for customers to use for their active and passive preamplifier designs. See the application examples here.