October 2002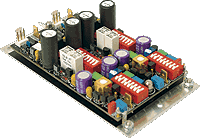 DACT CT100 phono stage
Dear Reader,

This time we will concentrate on our CT100 phono stage / RIAA preamplifier module because there is a new review of CT100 available.

CT100 has gained the reputation as one of the best sounding phono stages ever made, regardless of price.
As an example, try to read through the latest review of CT100 here. This time the overwhelming remarks are from Mr. Christos Skaloumbakas of the Audiophile Club of Athens, Greece. As an example, Mr. Christos Skaloumbakas writes: ......."Believe me, I have heard a lot of Audio gear and to tell you the truth, I have never heard another phono preamplifier, ss or valve what ever the price, sounding even close to this unit. And not only that but it offers so many settings it can amplify virtually all mm or mc cartridges, low or high gain with incredible ease and versatility".....

For those of you that are into vinyl, if you don't already own a CT100, maybe this is the time to consider buying one. Our CT100 phono stage module sells at a very modest suggested retail of US$ 594.00 (or EUR 594.00), excluding any taxes. Top performance at 594.00 !

One thing to keep in mind is that CT100 really benefits from being powered by a high quality audio power supply. At DACT we are currently working on the completion of a high-end regulated power supply module especially designed to be used with our CT100 and CT101 amplifier modules. As soon as the new power supply is available, it will be mentioned at our web site and described in another Newsletter. Launch is scheduled for the end of this year.

Other CT100 resources that you may want to look through are
CT100 data sheet
CT100 instruction manual
DACT review in The Absolute Sound
New CT100 review for ACA, Greece

For more information please contact us here.

Best regards
DACT