REPORT FROM A DACT CUSTOMER THAT USED CT102 FOR POWERING HIS DIY D/A CONVERTER.


Dear DACT,

Since I no longer feel the need to "improve" my vinyl section (DACT CT102+CT100) I was wondering what the PSU CT102 could do for me in the CD department:

I have a "old" Sony CDP-X777ES which gave me a lot of pleasure in the past.
But this player will not play forever and I don't want to spend K's of EURO's to replace it when he retires

So I bought a DAC evaluation board (AD1853) and connected your CT102...
I used the 777 as CD transport and connected the digital out to the digital in of the DAC:
After one day of playing:
This is not bad at all...(not worse than the 777) so my goal was achieved.
After one week:
WHOW...I know I have never heard a CD player playing music like this!!!
It is impossible to say that the bass or trebles or mids are better, higher, lower or whatever, because for the first time I am listening to music (from CD!) in all its glory...the same way I hear music from my vinyl system. (well pretty close, but anyway I can enjoy music from both systems now)

After one month:
Well...I think I hit the jackpot.

And the good thing is: It is almost as good with a 150 EURO DVD player!
So I will probably buy in the (not to near) future a good DVD player to replace the 777 when he retires.

I could not resist to put 2,7µF MKP caps on the DAC power supply input terminals...this is like going from pentode to triode in my valve amps: MAGIC!

I did some CD mods for some friends on their CD players (super clocks, SACD upgrade module etc.) but none gave the same result as what I did with your PSU and this DAC. (Vacuumstate SACD upgrade module was also very good, fair is fair, but the DACT DAC is even better)

BTW: I had two critical visitors to listen to this CD setup...and they both will order the evaluation board and your CT102 PSU

Any plans on making a DACT DAC??? could be a hit!
Attached a picture of the setup.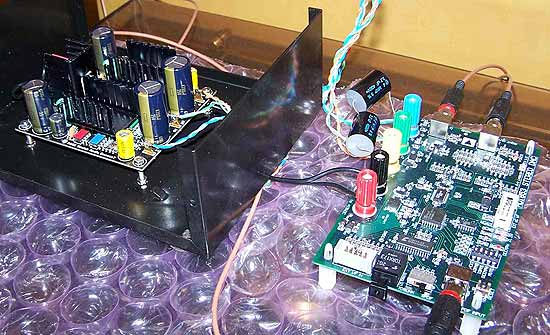 Kind regards,

Tony De Lobelle
BELGIUM