January 2003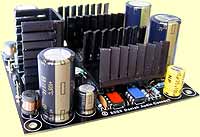 DACT CT102 Audio Power Supply
DACT just made it easier to be an Audio DIY
Dear Reader,


This time we would like to introduce a brand-new product to you: The DACT CT102 Audio Power Supply.
No more worrying about where to source or how to build a high-end Audio Power Supply for your amplifier or other high-end audio electronics circuits.

CT102 is a ready-made module that comes on a packed PCB with gold plated traces - all tested and ready to use. There is included a universal (100-250VAC mains) switch mode mains adapter.
CT102 outputs a very stable and noise free DC voltage, that can be customer set by a jumper to either +/-15V or +/-20V. Max. continuous output current is 200mA, but much larger peak currents are available.
The included switch mode mains adapter offers superior sound quality due to less capacitive coupling to the mains than conventional transformer based supplies. Besides, the mains adapter eliminates any safety hazard as no mains voltages are exposed outside the encapsulated unit.
CT102 is the ideal partner for low-consumption audio electronics circuits. Not only is CT102 optimized for powering DACT's own preamplifier modules, the CT100 Phono Stage Module and the CT101 line Stage Module. CT102 is also the obvious choice for powering DIY circuits and for power supply upgrade of ready-made audio equipment.

Click here for more information about CT102


Alternatively, contact us here.

Best regards
DACT